A genealogist hungry for informations about her ancestors and a pillar of the Association from the begining because of her implication and researches.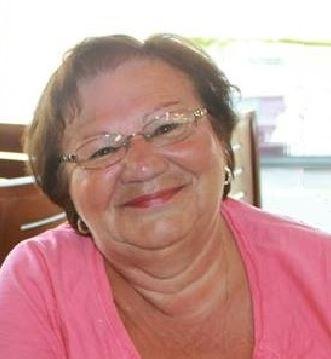 Daughter of Julien Chabot, native of Sainte-Justine de Bellechasse, and Adrienne Martel, native of Saint-Léon-le-Grand, Matapedia Valley in the Lower St. Lawrence. My parents met at a dance party in Montreal and from their union were born four daughters of whom I am the eldest, but I am the only one for whom the genealogy of interest.
I would describe myself as a genealogist since I go through parish registers, censuses, naturalization requests on the Ancestry.ca website, death notices in newspapers, etc. Already during my teenage years, I had the taste of being an archaeologist, but nothing came out of it and later I worked as a secretary in Montreal, in Edmonton, Alberta and in Quebec City because my husband was in the military at the time. At the birth of our children (triplets) in 1980, I had no choice but to take care of my little family. One day the children arrived from primary school and their homework was making their family tree; it was enough for me to make calls to my parents, parents-in-law, uncles and aunts, and I have kept have to this day the work I had done at the, thirty years ago.
After the death of my mother in 2005, I wanted to put on paper the result of my research to leave their ancestors (from my husband's side as well as mine), as genealogical legacy to my children. I remember that one evening in front of my computer I was reading the requests of several people looking to find their ancestors and a paragraph had immediately caught my eye, that of a Claude Chabot who seemed to know a lot about the Chabot. I immediately wrote my question on that website, saying to myself that it would surely take years before anyone deigned answer me, but no, that same Claude Chabot answered me tit for tat, telling me some of my ancestors on the Chabot side; I was conquered. We discovered that our family trees, that of Claude and mine, were linked by one of my father's brothers, Marc Chabot, married to Gisèle Chabot (on Claude's side).
My husband has always been involved in everything that fascinated me, so during our small trips, we visit cemeteries in search of Chabot even if it seems odd or unusual for some. To this day we have never seen ghosts re-emerge but we have walked the fresh grass of these peaceful places that lend themselve to meditation. Being generous in nature, he always volunteers during the Chabot brunches for the preparation of the room or simply to assist when needed, while I, at the computer, I give information on the past of their ancestors to those who wish.
The Chabot Association was not yet formed in 2005 that several Chabot were already gravitating around Claude Chabot by urging him to form an association. It did not take more than that for the process to start. So since then, I send the fruits of my research to Claude Chabot and a beautiful friendship binds us since that day. We did not always agree at the beginning on the Chabot that we wanted to keep on our database since Claude's research was rather based on the Chabot of Quebec, but many of the descendants of Mathurin Chabot, our ancestor, have settled elsewhere than here; they are found everywhere in Canada and throughout the United States. As bizarre as it may be, the name of Chabot has also changed over time or places; we find Chabotte, Shepard, Jabot, Jabotte, Shebott, Sherbutt, Schabot, Sherbert, Chabott, etc. and all are descendants of Mathurin.
The time has passed since the day I met Claude Chabot, but our passion has not stopped over time, we hope that all these efforts will leave a genealogical footprint in the Chabot and that their descendants will be able to better trace those who have preceded them.