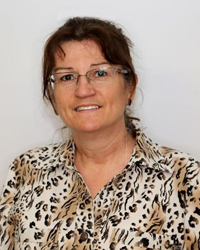 Personal Information
Born in 1959, in Saint-Joseph (Québec City), daugther of Ovila Chabot and Bibiane Veilleux.
Contact
Québec
T. (418) 873-2337
murielle@association-chabot.com
Background
I was born in Saint-Joseph (Québec City) on July 25, 1959, daughter of Ovila Chabot (native of St-Cyprien) and Bibiane Veilleux (native of Ste-Rose-de-Watford).
My grandparents Chabot are Philias / Phileas Chabot and Marie Lapointe.
I studied in Saint-Rodrigue-de-Charlesbourg, Saint-Raymond and completed my last two years of study as a bilingual secretary at the Driscoll College Institute in Québec City.
I held the following positions successively: Farm Credit Corporation Canada (Bilingual Receptionist), Amisco Industries (Bilingual Customer Service), The Furniture Gallery (Furniture & Decorator Advisor), Zip International (Warehouse and Sales Clerk) ). Yvon St-Gelais Furniture / The House of the Future, furniture consultant. Finally, I finished my career at Royal Lepage (receptionist-operator) in 2012 and since then… retired!
My volunteering: Secretary of the Val-Bélair Beautification Committee and founding member of the Jardin des Iris of Val-Bélair, a community garden that still exists. Member of the C.A. of the 150th anniversary committee of Pont-Rouge. Member of the beautification committee of the city of Pont-Rouge.
Currently, I am a volunteer at the Grenier des trouvailles (St-Vincent-de-Paul) in Pont-Rouge. I have been a member of the choir "Choeur Allégro" for 7 years.
Murielle Chabot's Family Tree
Murielle Chabot (1959-) – June 7 juin 1980 in Pont-Rouge, Portneuf – Jacques Matte (1958-)
Ovila Chabot (1929-2014) – August 11 1958 in Ste-Rose de Watford, Dorchester – Bibiane Veilleux (1935-)
Philias Chabot (1881-1967) – August 3 1903 in Ste-Justine, Dorchester – Marie Lapointe (1883-1953)
Pierre Chabot (1847-1910) – October 3 1871 in Ste-Justine, Dorchester – Mathilde Lapierre (1846-1916)
François Chabot (1806-1866) – November 23 1830 in St-Charles, Bellechasse – Angélique Couture (1802-1894)
François Chabot (1784-1844) – October 22 1805 in St-Charles, Bellechasse – Charlotte Lacasse (1785-1876)
Jean-Baptiste Chabot (1747-1823) – April 16 1782 in St-Charles, Bellechasse – M-Louise Lacasse (1755-1789)
Jean-Baptiste Chabot (1718-1758) – April 27 1746 in St-Laurent, I.O – Madeleine Frontigny (1723-1762)
Jean Chabot (1667-1727) – November 17 1692 in St-Pierre, I.O – Eléonore Enaud (1673-1746)
Mathurin Chabot (1637-1696) – November 17 1661 in N-D de Québec – Marie Mésange (1643-1692)
Jean Chabot (1609-1653) – February 23 1632 in Nalliers, Lucon, Poitou, France – Jeanne Rodé (1619-1664)