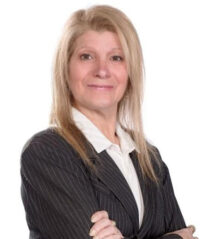 Personal information
Born in 1963, in Montreal-Nord, daughter of Arthur Chabot and of Marie-Marthe Bordeleau.
Contact
T.  450 297-0025
Background
Let me introduce myself, Isabelle Chabot.
Born in Montreal-North, in 1963. Daughter of Arthur Chabot (father: Arthur Chabot, mother: Rose-Anna Corriveau) and Marie à Marthe Bordeleau (father François-Xavier Bordeleau, mother Émilienne Delorme). I have 3 sisters: Ginette, Monique and Sylvie, and 2 brothers: Richard and René.
I moved to Estrie and lived there for 30 years. Now, I have lived in Quebec City since February 20, 2020. Phew, how Covid-19 has turned all of our lives upside down.
Certified real estate broker for 17 years, I have my agency director diploma, and I am a lecturer and trainer in real estate brokerage. Since my arrival in Quebec City, I have been working part-time at the CHU de Quebec to help out with the Covid-19, while I create a network of contacts.
I show leadership and know how to be convincing. Personally, I have been involved in recent years as a volunteer in palliative care, helping single mothers, and I was chair of the board of directors of a women's center.
I was also a patient attendant, an attendant for children with intellectual disabilities and a psychiatric attendant. I therefore have the well-being of my community at heart and this is reflected in the contact I have with my clients. I love human contact above all.
Summary of my achievements
Head of the relocation committee at the Memphrémagog Women's Center; purchase of residences for the CFM; responsible for the fundraising campaign; solicitation of a sponsor; project development and implementation; creation of the FACEBOOK page of the women's center; writing and setting up of the professional page.
Real estate columnist for Cogeco Magog television.
Journalist, real estate columnist on television for 5 years: Capsules of 6 to 8 minutes on a weekly or monthly basis. Presentation of columns on various subjects as part of the delayed television program on the Cogeco Cable network in Estrie "On jase avec Pélo".
"100% Cloutier" community radio program on the Web.
Radio real estate news columnist: Information capsules on the sale or purchase of a residence
Real estate conferences: Facilitate conferences for senior residents of my city, lasting 60 to 90 minutes, followed by a question period.