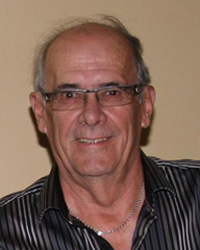 Personal Information
Born in 1944, in Québec, son of Marcellin Chabot and Jeannette Plamondon.
Contact
Lévis, Qc
T.  418 572-2324
clementchabot@sympatico.ca
Background
I was born in Quebec City on February 10, 1944 and baptized in St-Malo parish, son of Marcellin Chabot and Jeannette Plamondon of the parish of St-Sauveur.
My grandparents were Michel Chabot and Cordélia Auger, as well as Charles Plamondon and Élisabeth Trudel.
Graduate of St. Joseph High School in Loretteville in Sciences and Letters and Jean de Brébeuf School in Quebec City with 12th grade, commerce.
I started my career as a professional firefighter with the Canadian Forces, specifically with the Air Force.
When I left the Forces, I worked at Pratt and Whitney in Longueuil as a firefighter, before joining the fire department of the city of Longueuil.
I graduated from École Polytechnique de Montréal as a fire protection and safety technician in 1969.
I finished my career in 1999 as an officer responsible for training and special projects. From 1985 to 2012, I taught for IPÎQ, the Collège ND de Foy and the National de Pompiers du Québec (the provincial firefighter school). I gave the fire training in English in the towns and villages along the US border and on the lower North Shore until February 2012.
I served on the boards of directors of the firefighters' association of Quebec as secretary – treasurer for a 2-year term.
I volunteered for Scouts in Quebec, as a troop leader, for a troop I founded in ND de Fatima Parish, in Longueuil, and in St-Mathias-sur-Richelieu, and was District Scouts Commissioner for the St-Jean district.
Member of the Chabot Association since 2007.