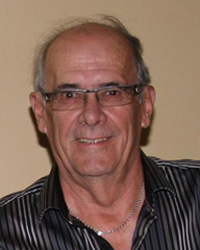 Personal Information
Born in 1944, in Québec, son of Marcellin Chabot and Jeannette Plamondon.
Contact
Lévis, Qc
T.  418 572-2324
clementchabot@sympatico.ca
Background (English version coming soon)
Je suis né à Québec, le 10 février 1944 et baptisé dans la paroisse St-Malo, Fils de Marcellin Chabot et de Jeannette Plamondon de la paroisse de St-Sauveur.
Mes grands-parents sont Michel Chabot et Cordélia Auger, ainsi que Charles Plamondon et Élisabeth Trudel.
Diplômé de l'école secondaire St-Joseph à Loretteville en Science Lettre et de l'école Jean de Brébeuf à Québec en 12e commercial.
J'ai commencé ma carrière de pompier professionnel dans les forces canadiennes soit l'aviation comme pompier.
Quand j'ai laissé les forces, j'ai travaillé chez Pratt and Whitney à Longueuil comme pompier, avant de joindre le service d'incendie de la ville de Longueuil.
Je suis diplômé de L'École Polytechnique de Montréal comme technicien en protection et sécurité d'incendie en 1969.
J'ai terminé ma carrière en 1999 comme officier responsable de la formation et des projets spéciaux. De 1985 à 2012, j'ai enseigné pour IPÎQ, LE COLLÈGE N.D DE FOY ET L'ÉCOLE NATIONALE DES POMPIERS DU QUÉBEC. J'ai donné la formation anglaise en incendie dans les villes et village le long de la frontière américaine et sur la basse Côte-Nord jusqu'en février 2012.
J'ai fait partie des conseils d'administration de l'association des pompiers instructeurs du Québec, comme secrétaire — trésorier pour un mandat de 2 ans.
J'ai fait du bénévolat pour les scouts du Québec, comme chef de troupe, que j'ai fondé dans la paroisse N.D, de Fatima à Longueuil et à St-Mathias-sur-Richelieu en plus d'être commissaire aux éclaireurs du district St-Jean.
Membre de l'association des Chabot depuis 2007.